Drinking Buddies Exclusive: Olivia Wilde and Jake Johnson Talk Being Brewery Buds
by Joel D Amos at . Updated at . Comments
Drinking Buddies stars Olivia Wilde and Jake Johnson met us for an exclusive video interview where they extolled the virtues of their director Joe Swanberg and his freestyle method of movie making. "We didn't have a script," Wilde said of the heavily improvised romantic comedy.
As the Drinking Buddies trailer shows, Johnson and Wilde are two employees of a Massachusetts brewery, and although each is in a relationship (with Anna Kendrick and Ron Livingston), they can't deny their attraction. The thing they wonder over the course of the film is, are they meant to be romantically together or simply… Drinking Buddies?
To say each was thrilled with their significant other co-stars is a gross understatement. "I would like to do a whole other movie with Anna -- get these guys out of the way," Wilde admitted of Anna Kendrick.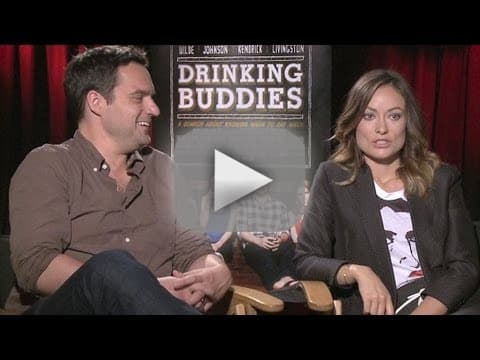 Johnson cherished Wilde's other half almost more than she did! "I think what Ron Livingston brought to the movie is huge," Johnson said. "If there was a bad guy, he was the bad guy. The fact that you don't hate Chris (Livingston's character) for breaking her heart… that is phenomenal."
And their joy with spending weeks on end filming largely improvised scenes together had Wilde (soon to be seen in Rush) finding a new appreciation for the New Girl star. "I don't play tennis, but I liken it to a good volley," Wilde said. "There was nothing I threw at him, that he didn't throw back better."
Drinking Buddies opens August 23.