The man who is responsible for the stories that have made some of our favorite films of the last several decades has passed away, Elmore Leonard. Leonard died after suffering a stroke recently… he was 87.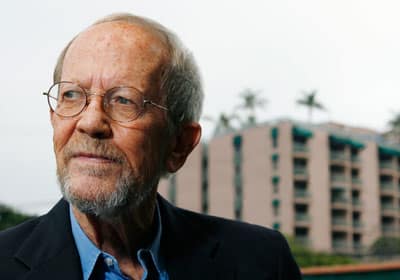 The author and screenwriter crafted several books that were brought to the screen in some of the most memorable movie moments of recent memory including Get Shorty, the sizzling Out of Sight and Rum Punch, which Quentin Tarantino turned into the stellar, and under appreciated Jackie Brown.
Tarantino was clearly influenced by Leonard, more than just adapting his Rum Punch. The filmmaker credits the author for giving him his voice on one of his most famous screenplays.
"I love Elmore Leonard," Tarantino said. "To me, True Romance is basically like an Elmore Leonard movie."
He also penned Mr. Majestyk and Hombre, as well as 3:10 to Yuma and some might not know… the FX smash hit Justified. He will be missed.