For Elysium director Neill Blomkamp, science fiction is clearly a means to an end. The South African born filmmaker behind the Oscar-nominated District 9, firmly wields his camera in that genre as a way to address current societal woes within an entertaining medium. As District 9 was a clear commentary on apartheid in his own country, his latest Elysium screams from the mountain top about the sharp and getting sharper divide between the world's haves and have nots.
Matt Damon stars as Max, and as the film starts we meet him through a series of flashbacks. He's an orphan who grows up with one eye on his friend Frey (Alice Braga) and another firmly shooting towards the beautiful orbiting paradise called Elysium. The earth has gone to hell in a handbag and the wealthy have left and moved to that Eden in the sky, far away from over-population and a planet soiled with pollution and disease.
Flash forward to the "present" (2154) and Max is working in a factory making robots, that ironically exist to make his and everyone else's life on Earth pure misery. It's a totalitarian world where Max used to live in the shadows as a criminal stealing anything that wasn't tied down. We know he's done prison time and he's doing his best to better himself and cope with what the world has given him.
As shown in the Elysium trailer, an accident at work leaves him with only five days to live. It is there that Elysium truly takes off and zeroes in on its searing point. It is also at this moment that Damon turns on his classic movie star power and gives gravitas to Blomkamp's message told through entertainment. Teased in the second Elysium movie trailer, Max knows that the health machines on Elysium could cure him in five minutes. He is driven to get up there… regardless of the cost.
It is as this point that Elysium becomes razor sharp. And therefore it is not by accident that Jodie Foster's Delacourt takes over the film in terms of her wicked skill at emitting a lust for power. She is a cabinet level politico on Elysium and it is her job to ensure the safety of that orbiting paradise. Blomkamp masterfully shows that all is not perfect up in space as you can take away war, poverty, illness and famine… but the core human spirit of greed and urges for power still remain. Foster is a monster and will do anything to keep her position and in fact, she desires more… much more.
She enlists a rogue agent on Earth named Kruger, played by longtime Blomkamp collaborator Sharlto Copley, to aid her in her ruling with an iron fist methods. Copley matches Foster's intensity note for note, as each ups the ante on the other throughout the film -- which is amazing, given that the two never share a scene and only talk through wireless communication.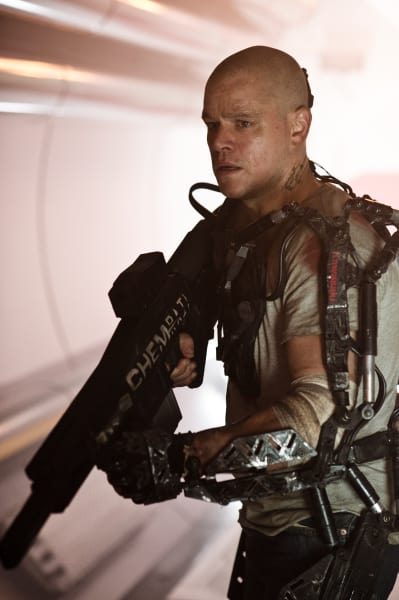 Blomkamp has truly done it again. Where District 9 was quite specific in its attack on society, Elysium is a full-on assault on the world at large. He paints a picture of Earth that mirrors what Latino immigrants see when they look over the border fence into America and makes the audience feel as if we are in their shoes.
The slogan of the orbiting paradise is "It's better up there." Given how Mexicans and other immigrants from other nations view life in America, Blomkamp's message could not be clearer. If we maintain the path we are on currently… the science fiction of Elysium could easily become fact.
Our Elysium review finds the film a piece of astonishing work. And the fact that it arrives in the summer popcorn movie season is all the more important. That's the beauty of great sci-fi, it can give the audience a message, teach a thing or two… and still give us a great time at the cinemas. Mr. Blomkamp… it is better down here because of filmmakers like you.