The Expendables 3: Arnold Schwarzenegger Tweets Photo With Harrison Ford!
by Joel D Amos at . Updated at . Comments
Arnold Schwarzenegger took to Twitter and Instagram to post a photo from the first day of shooting The Expendables 3. Who's that beside him? Why, it's none other than Harrison Ford!
Talk about getting right to work! It was just days ago, it seems, that it was announced that Harrison Ford was in The Expendables 3. Guess we can see why star and The Expendables creator Sylvester Stallone wants to get busy on the third chapter in his over-the-hill gang action fest and strike while the iron is hot.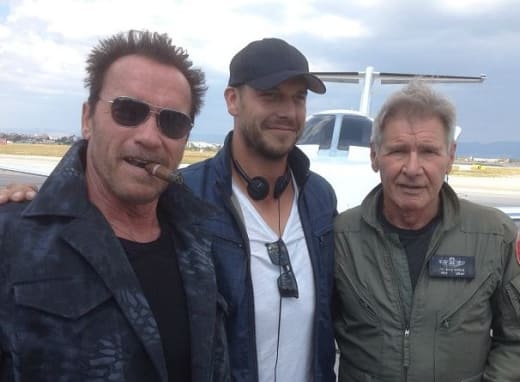 The Expendables 3 is shooting in Eastern Europe and has also added Antonio Banderas and Mel Gibson.
We're so sure this is the first of many, many tweets and photos from the set of The Expendables 3.