James Wan, director of the upcoming Fast & Furious 7 and helmer of the surprise summer hit The Conjuring, posted a photo on Twitter that features him and also confirms Tyrese Gibson's participation in the seventh film in the Fast and the Furious franchise. What else it shows is what we think is an early poster for Fast & Furious 7. We like what we see so far!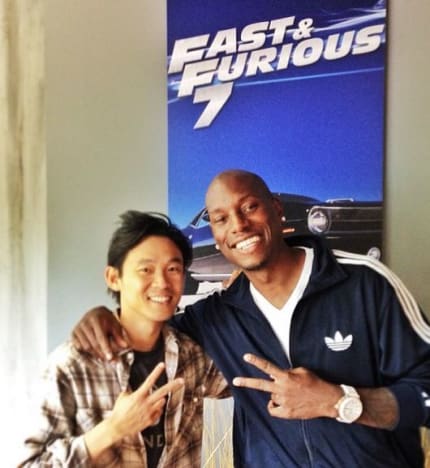 The hiring of Wan was a stroke of genius. Whether it was in his Saw days, Insidious or the aforementioned The Conjuring, the man knows how to build suspense. Sure, it was horror… but edge of your seat moments transcend genre and Wan is a master.
Wan also announced that he had hired mixed martial artist Ronda Rousey for a role in the film that is tentatively set to debut July 11, 2014. Hey, that's less than a year away!
The helmer just came out of a production meeting for his latest film and by the sounds of his tweet, he's pretty pumped. "Last night's production meeting went for about 6 hours -- from 7pm to 1am. #epic."
And yes, if you saw Fast and Furious 6, you know a huge action star has joined the franchise too, none other than Jason Statham.