Getaway lands in theaters this Labor Day weekend, August 30, and is a fast-paced thriller starring Ethan Hawke and Selena Gomez. When Hawke comes home one day, he discovers his house trashed and his wife missing.
Immediately, the phone rings and it is the kidnapper who instructs him to go to a nearby parking garage and steal a car. That vehicle turns out to be Selena Gomez's and our thriller is off to the races. As teased in the Getaway movie trailer that premiered earlier today, Hawke's husband is desperate to do what a kidnapper says to ensure the safe return of his wife. He must follow all the instructions, or she will perish.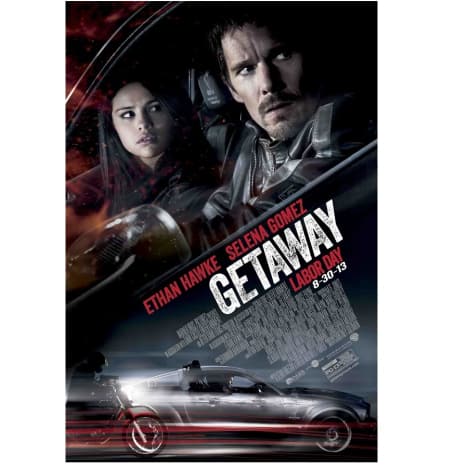 To celebrate the film that is sure to send hearts racing, Movie Fanatic is proud to present an awesome prize pack that celebrates the summer thriller that is of the highest order. You'll want to enter now, so you can win this prize and be ready to race to your own Getaway.
Our grand prize winner will win a Getaway prize pack containing:
Traveling Cooler
Trunk Organizer
Black Getaway Tees
Black Baseball Cap with Embroidered Title
Getaway Beach Towels
Silicone iPhone Case
Compass Tire Keychain
Microfiber Mini Screen Cleaner
Use the widget below to enter on Facebook or Twitter. There are three unique ways to enter, and by entering all three ways you can increase your chance at winning!
Our grand prize winner will be selected at random on September 3. Good luck!
Don't forget to visit the Getaway official site for more on the new film. And to further stay informed on all things Getaway, check out the Getaway Facebook page, the Getaway Twitter page and follow @wbpictures on Twitter.

Be sure to enter now as the sweepstakes runs through September 2.
You can also sign up for Warner Bros. special offers, be the first to know movie news, updates and more at:
Getaway Synopsis:
Getaway is the gritty, heart-pounding action thriller from Warner Bros. Pictures and Dark Castle Entertainment starring Academy Award nominee Ethan Hawke (Training Day, The Purge, Sinister), actress and international music sensation Selena Gomez (Spring Breakers, Wizards of Waverly Place), and Academy Award winner Jon Voight (Coming Home, the National Treasure films) under the direction of Courtney Solomon (An American Haunting), who also produced the film.
Former race car driver Brent Magna (Hawke) is pitted against the clock. Desperately trying to save the life of his kidnapped wife, Brent commandeers a custom Ford Shelby GT500 Super Snake, taking it and its unwitting owner (Gomez) on a high-speed race against time, at the command of the mysterious villain holding his wife hostage.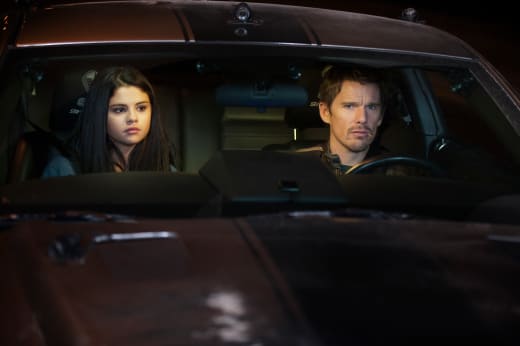 Rounding out the cast are Rebecca Budig and Bruce Payne.
Solomon, Allan Zeman, Moshe Diamant and Christopher Milburn produced the film. The executive producers are Julius R. Nasso, Wayne Marc Godfrey, Robert Jones, Bobby Ranghelov, John Goodman, Dennis L. Pelino, Claudia Bluemhuber, Ian Hutchinson, Joel Silver and Steve Richards. The screenplay was written by Sean Finegan & Gregg Maxwell Parker. Finegan also served as co-producer along with Stephanie Caleb.
The behind-the-scenes team includes director of photography Yaron Levy, editor Ryan Dufrene, production designer Nate Jones, and costume designer Roseanne Fiedler. The music is by Justin Burnett.     
Warner Bros. Pictures presents, in association with Dark Castle Entertainment, an After Dark Films production, in association with Signature Entertainment, in association with Silver Reel, a film by Courtney Solomon, Getaway. The film opens August 30, 2013 and will be distributed by Warner Bros. Pictures, a Warner Bros. Entertainment Company.
Getaway Prize Pack Release and Indemnification:
By entering the sweepstakes, entrants release and hold harmless Warner Bros. Entertainment Inc. and each of its respective parents, divisions, affiliates, subsidiaries, agents and advertising agencies (collectively,  "WBEI" ) from and against any and all losses, damages, rights, claims, and actions of any kind arising in whole or in part, directly or indirectly, from the sweepstakes or participation in any sweepstakes-related activity (including without limitation the removal from the site of, or discontinuation of access to, any materials), or resulting directly or indirectly, from acceptance, possession, use, or misuse of any prize awarded in connection with the sweepstakes, including without limitation personal injury, death, and/or property damage, as well as claims based on publicity rights, defamation, and/or invasion of privacy.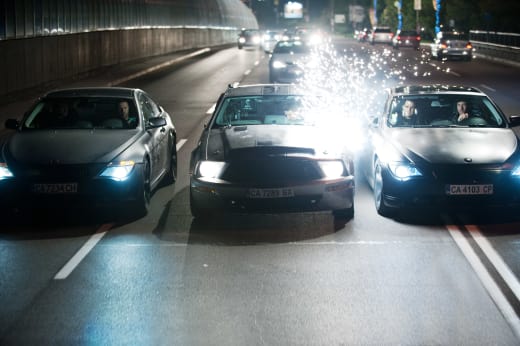 Limitation of liability:
In no event will the WBEI be responsible or liable for any damages or losses of any kind, including without limitation direct, indirect, incidental, consequential, or punitive damages, arising out of any access to and/or use of the sweepstakes site, the downloading from and/or printing material downloaded from the sweepstakes site, the removal from the sweepstakes site of, or discontinuation of access to, any materials, or the acceptance, possession, use, or misuse of, or any harm resulting from the acceptance, possession, use or misuse of, or participation in, any prize awarded in connection with the sweepstakes. Without limiting the foregoing, the sweepstakes, all prizes, and all materials provided on or through the site "are provided as is" without warranty of any kind, either express or implied, including without limitation the implied warranties of merchantability, fitness for a particular purpose, and non-infringement.