Grudge Match Photo: Sylvester Stallone & Robert De Niro as Boxing Rivals
by Joel D Amos at . Updated at . Comments
The first official image from Grudge Match has been released and it features the most unlikely of pairings. Sylvester Stallone and Robert De Niro star in the film about two former boxers who… well, to say they don't get along is an understatement.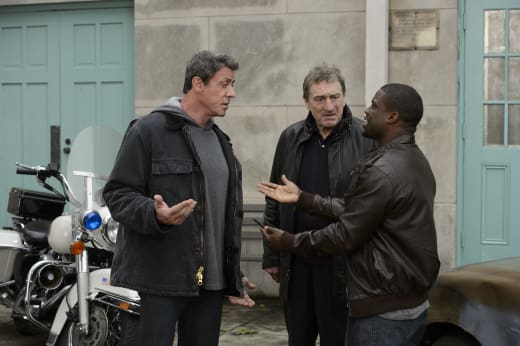 De Niro and Stallone play Billy "The Kid" McDonnen and Henry "Razor" Sharp. They are Pittsburgh fighters that were rivals of the most serious kind. In 1983, the two were about to embark in a battle for the ages when Razor quit boxing, completely out of the blue. Each had won a previous fight against the other and fans were left wondering who would have won the third and come out on top of the rivalry.
The movie picks up 30 years later when a boxing promoter gets an idea to reunite these two in the ring to decide once and for all who is the better battler. The two don't get to the ring before they come to fisticuffs in a street fight that is captured on video and goes viral. Now, the world is truly interested in this rematch, and the two fighters and that promoter are seeing nothing but dollar signs.
Grudge Match also stars Kevin Hart, Alan Arkin and Kim Basinger. The film lands on Christmas Day. Merry Christmas indeed, as that is one crowded holiday for movies. Saving Mr. Banks, Jack Ryan, Keanu Reeves' 47 Ronin, American Hustle and The Secret Life of Walter Mitty all arrive that day... with Anchorman 2 landing in theaters five days earlier.