Guardians of the Galaxy: Chris Pratt Says "We're Getting Good Stuff"
by Joel D Amos at . Updated at . Comments
Star-Lord has spoken! Well, Chris Pratt has and we all know that he is currently filming Guardians of the Galaxy. Pratt is diving into his part as Peter Quill and his heroic alter-ego Star-Lord.
Pratt also has the demands of being on a hit show, Parks and Recreation, which is also filming… currently in L.A. You could forgive the man for being a little jet lagged, but he isn't. In fact, he's on a cloud and talking about all the great stuff going on with the London shoot of the Marvel origins story.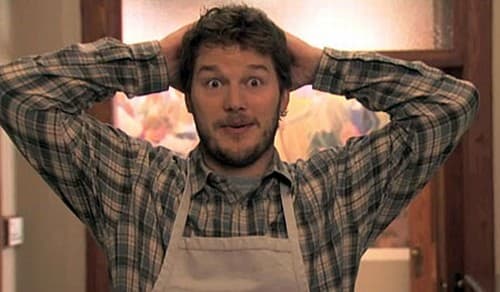 On the set of Parks and Recreation, Pratt was talking about the show with IGN and conversation turned to Guardians of the Galaxy. Specifically, he was asked if we would ever see anyone from the Guardians of the Galaxy world show up in an Avengers movie.
"What's nice is that it is all the same universe. Because it falls under the Marvel umbrella, there is the possibility, just like in the comic books, that these stories could intersect," Pratt said to the collective jaw-dropping of comic fans everywhere. This on top of the other drool-worthy news that James Spader has been cast as Ultron in Avengers: Age of Ultron!
"A lot of it's just going to depend on what people think of the movie and if it makes sense for Marvel to keep making more of them. But I sure hope it does because I've never done anything like it. I hope they make ten of them."
Although shooting is truly only weeks old, Pratt seems impressed with what director James Gunn has captured so far on the Guardians of the Galaxy set. "I think we're getting good stuff. I don't know what to say about it other than it might be -- Oh! It's the greatest movie of the 21st century! That's what I'll say," Pratt said, ever being the comedian at heart that he is.
"It'll be the Citizen Kane of movies other than Citizen Kane."
Pratt is joined by Zoe Saldana, Benicio Del Toro, David Bautista, Lee Pace, Djimon Honsou, John C. Reilly, Glenn Close and Vin Diesel who is voicing Groot in the Guardians world that lands on screens in August of 2014.