Simon Pegg is certainly known for having a sense of humor. Whether it is his work with director Edgar Wright and his BFF Nick Frost on Shaun of the Dead, Hot Fuzz or the final installment of the trio's trilogy due next week, The World's End, or in films such as Paul... he is Mr. Funny. So, is Pegg being humorous with a photo he posted on Twitter today?
We all know that Wright is filming Ant-Man, and of course as we've established he is good friends with Pegg. So, when Pegg posted a photo today of himself at Marvel Studios and in the photo he is pointing to Ant-Man… comic book fans had a heart attack in the best of ways.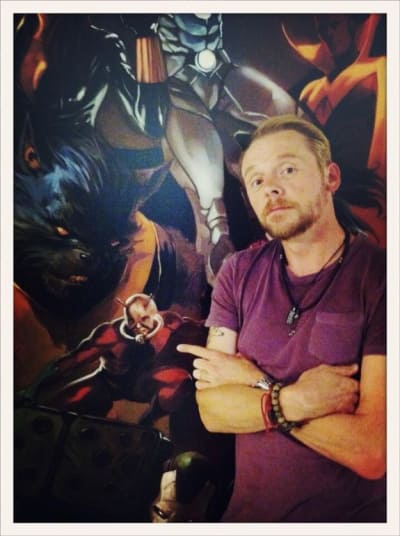 Movie Fanatic believes that Pegg would actually be a solid Ant-Man. We've seen him do action in the Star Trek franchise and he even kicks butt a little bit in the Blood and Ice Cream trilogy. But, is he just having fun with his fans and at the same time, having a laugh with the media who have gone into a frenzy concerning the possibility that Pegg is Ant-Man?
Soon after the above photo was posted, Pegg also released a photo of him next to the Hulk and Thor's hammer. Now, is that meant to get us in the media off the scent of a potential huge story? Honestly, we think that is exactly what he is doing.
When Vin Diesel went to Marvel and posted a Twitpic of himself, we knew he would be in a Marvel film. Sure, we thought it would be Avengers: Age of Ultron. But, the truth did come out and Diesel is Groot in Guardians of the Galaxy.
So, what do you think? Is Pegg kidding or serious… do we now have our Ant-Man?