Jayne Mansfield's Car Trailer: Billy Bob Thornton Follows Up Sling Blade
by Joel D Amos at . Updated at . Comments
For the first time since the acclaimed Sling Blade, Billy Bob Thornton has written, directed and is starring in a movie. His Jayne Mansfield's Car has had its first trailer premiere and from the looks of it, Thornton may have another Southern-fried hit on his hands.
The film follows the tenuous relationship between a father and a son in 1969. Their interactions have changed over the years as the world is drastically changing around them. The father and son tale is also a story of war and peace, and with Thornton wielding his prose and camera for the first time in over a decade, count on this story to pack a major punch.
The Jayne Mansfield's Car poster has premiered and it features the film's stellar cast that includes Thornton, Robert Duvall, John Hurt (recently seen in The Host), Kevin Bacon, Robert Patrick, Frances O'Connor and Ray Stevenson.
And by the way, let's get that rumor going again that Thornton is talking about making Bad Santa 2!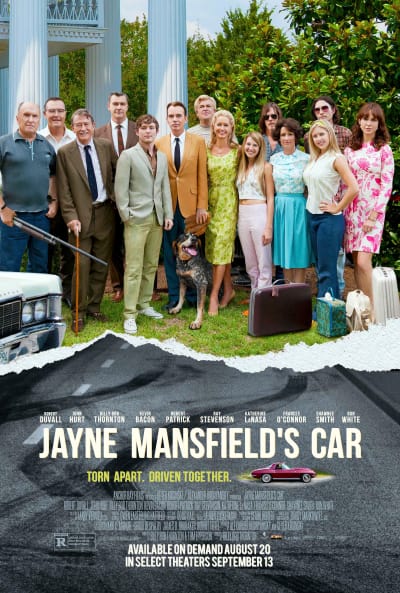 Look to get a ride in Jane Mansfield's Car when it lands in cinemas September 13.