Kill Your Darlings Poster: Daniel Radcliffe Gets Face Time
by Joel D Amos at . Updated at . Comments
The official poster for Kill Your Darlings has landed and it features Harry Potter graduate Daniel Radcliffe getting some serious face time with co-star Dane DeHaan.
As seen in the Kill Your Darlings trailer, the film follows Radcliffe's Allen Ginsberg and Ben Foster's William Burroughs as they meet and begin their prolific lives at Columbia University in 1944. Also in the mix of iconic writers who intermingled… Jack Kerouac (Jack Huston) and Lucien Carr (DeHaan, soon to be seen in The Amazing Spider-Man 2 as Harry Osborn).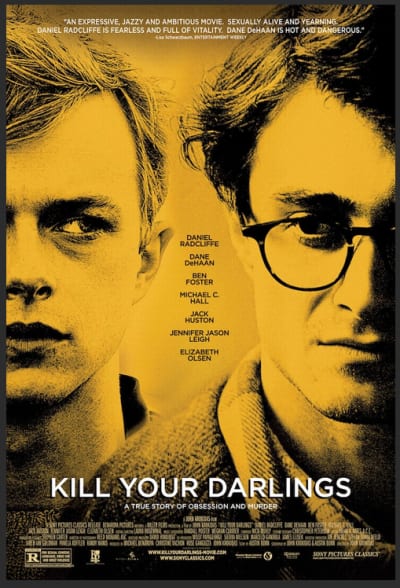 The film that chronicles the meeting of the minds of the Beat Generation follows some serious drama in laying out how these writers would meet, inspire each other and then go off into the world and create some of the most important works of the mid-twentieth century.
Did we mention that there was a murder in the mix? Yeah, that!
And if you're wondering how the title fits into the story… well, it actually may have a double meaning. Kill Your Darlings refers to the act a writer must go through when he or she is cutting a book or any written word piece. What to get rid of is seen as an act of "killing your darlings." And as a writer, I cannot think of a better phrase to describe it!
Kill Your Darlings lands in theaters October 16 and will premiere at the Toronto Film Festival in September.