The untold story of the infamous Disney villain from the 1959 animated classic Sleeping Beauty is getting the spotlight. At this past weekend's D23 Disney fan event, the star of that film shocked the audience and took the stage, Angelina Jolie.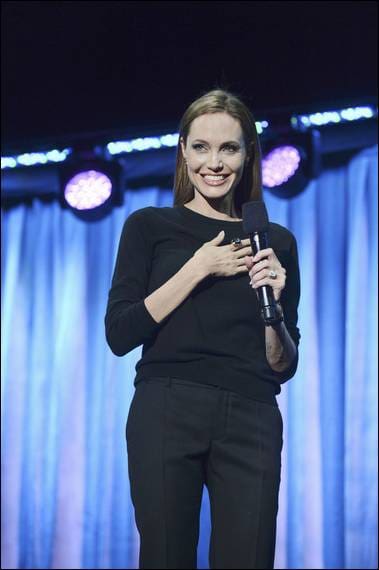 "Thank you so much. I'm so excited to be here," Jolie said to the thousands gathered in Anaheim. "Since I was a little girl, Maleficent was always my favorite character. No surprise!"
If there is anyone working in Hollywood today who is more perfect to play that character, we'd be hard pressed to find them. Her thrill was palpable. "I was terrified of her, but I was so drawn to her. I wanted to know more about her," Jolie admitted. Now, with her starring in Maleficent, we all get to know more about the most dastardly of Disney villains. "She had this elegance and grace and yet, she was so cruel… so deliciously cruel!"
The superstar actress then shared a personal story about the making of Maleficent. "Somebody said to me, 'What was it like when you got all dressed up? To be a Disney character must have been so exciting,'" Jolie said.
"It really was, but the strange thing was people with little kids would visit the set and I would think that I'm a Disney character. I would go over to the children and they'd scream and they would run off. One kid even said, 'Mommy, please tell the mean witch to stop talking to me.'"
Jolie than admitted she had a kinship with the thousands gathered for the every-two-year event D23, which celebrates the fans of Disney.
"I was a fan of Disney since I was a little girl. My children love Disney. As a parent there is something wonderful -- you know you can bring your kids to a Disney film and you know it's going to be good for them. You know it is going to have some good heart," Jolie said. "It's going to be beautiful. Now, we can give this magic to our kids."
Maleficent arrives in theaters July 2, 2014.