Sure, the Man of Steel sequel with Batman is all the rage right now. Heck, even the speculation as to who will play Lex Luthor in the second of the Zack Snyder film series has been a hot topic. But, to remind us of what we are following up, Warner Bros. has announced full plans for the DVD and Blu-Ray release.
Warner Bros. home video has announced that Man of Steel will arrive on DVD, Blu-Ray Combo Pack and 3D Limited Collector's Edition on November 12.
Henry Cavill made quite the debut, we stated in our Man of Steel review, and Snyder's film also featured an incredible cast including Amy Adams as Lois Lane, Kevin Costner and Diane Lane as the Kents, Russell Crowe as Jor-El, and who could forget Michael Shannon as Zod? Oh, and we could never forget about the always awesome Laurence Fishburne as Perry White.
As shown in the Man of Steel trailer, this is "sort of" an origins story. What Snyder does so well is assume that the audience is already familiar with the Superman story… and they are, so to get right into the action was the right call.
When Man of Steel soars onto home video in mid-November, fans have a multitude of options as to how to see it, depending on what platform they use at home. Movie Fanatic for one, would love to have the Premium Combo Pack, pictured below!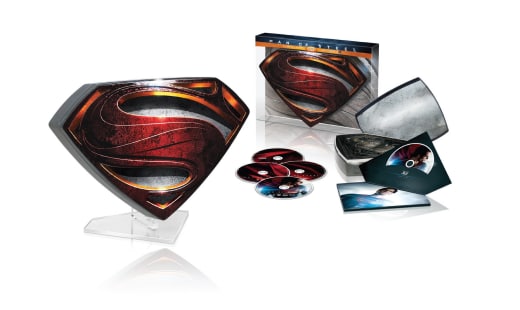 The special features that will appear on the Blu-Ray and DVD include the following:
Journey of Discovery Creating Man of Steel: This feature length experience has Snyder and his stars Cavill, Adams, Lane and many others describing the filming of the movie as you watch it.
Strong Characters, Legendary Roles: This feature is for the most hardcore of Superman fans as the entire mythology of the hero is explored including his villains and periphery characters.
All-Out Action: Want to know how Cavill got into fighting shape for Man of Steel? The actor takes viewers through the arduous process of getting ready to play Superman, and he is joined by Shannon and other members of the cast and crew.
Krypton Decoded: Dylan Sprayberry, who played the young Clark Kent, takes viewers on a journey to the planet that gave birth to Superman in never-before-seen visuals of the world that produced Earth's greatest superhero.
Planet Krypton: This featurette delves ever deeper into the mysterious planet as never before.