Pixar has announced plans for Monsters University DVD and Blu-Ray and its release date could not be more perfect. Just before Halloween, Monsters University will debut on October 29, packed with the usual bounty of brilliance from the studio that has brought us so much home video excellence.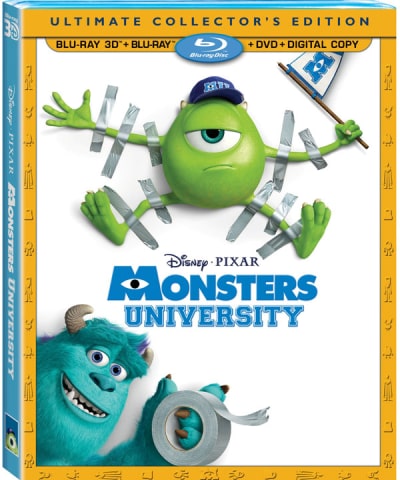 As we lauded in our Monsters University review, John Goodman and Billy Crystal are back and better than ever as Sulley and Mike. This time out though, we go back in time before they were the toast of the world of Monsters, Inc.
We meet Goodman and Crystal as college freshmen at the titular school and things don't go quite as easy as you would expect. Sulley has dreamed of attending the university since he was a little monster and Mike enters the school with an air of inheritance, since his father -- we learn -- was an all-star scarer.
In this Monsters University clip, we see where Mike first meets Sulley. See, the two weren't always BFFs. In fact, they had more differences than similarities and that is part of the joy of the film. How do these two go from strangers to some of the best scarers in the biz?
Disney Pixar will release the film in Digital HD and Digital HD 3D a littler earlier, October 8, with the regular DVD and Blu-Ray landing on the aforementioned date.
A preliminary list of the extras is below and it, from the outset, looks like Pixar has done it again by making the home video release of one of their esteemed titles a must-own.
Monster's University Blu-ray and Digital Bonus Features:
Campus Life
Story School
Scare Games
Scare Tactics
Color and Light
Paths to Pixar -- MU Edition
Furry Monsters: A Technical Retrospective
Deleted Scenes
Audio Commentary
Promo Picks
College Campaign
Theatrical Campaign
Set Flythroughs
Art Gallery
…and we've been told by Pixar there will be "much more" to come as the release date gets closer.
Oh, and we cannot report on this Blu-Ray and DVD release without mentioning that the stellar short film Blue Umbrella, that played before the theatrical release of Monsters University, will also be featured on the home video release.