Muppets Most Wanted Photos: It's Time to Start the Music!
by Joel D Amos at . Updated at . Comments
Hot on the heels of the debut of the Muppets Most Wanted teaser trailer, Disney has released a handful of stills that should thrill those eagerly awaiting the sequel to the Oscar-winning The Muppets. Yup, the first film won an Oscar for Bret McKenzie for Best Song… and he's back for the sequel!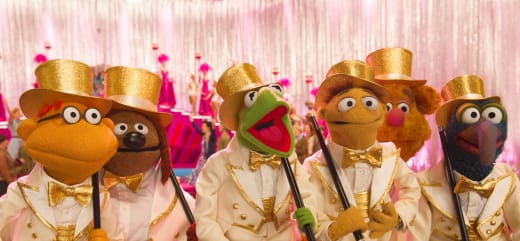 Kermit the Frog is back with his Jim Henson-created friends for a whole new adventure that takes place in the time following The Muppets starring Jason Segel. Amy Adams and Segel are both not in the sequel to their smash hit, but a new round of stars should fit into the classic category of sequels upping the ante.
Tina Fey stars as a militaristic European military leader? That ought to be as awesome as Ricky Gervais starring as a European spy. And how does Modern Family star Ty Burrell fit into the equation? Well, you'll just have to see.