Pain and Gain muscles its way onto DVD and Blu-Ray and the true story is as timely as when the real crimes at the heart of the story took place. The American dream is still something that millions strive for, but for the three characters profiled in Michael Bay's Pain and Gain, they sought to take the easy way and kidnap someone who had made their own millions and take a little for themselves.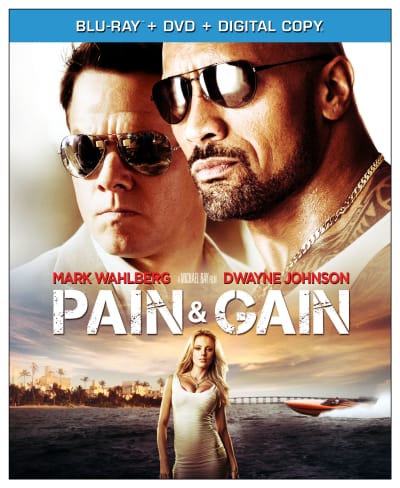 Mark Wahlberg, Dwayne Johnson and Anthony Mackie comprise the trio of terrible souls. They are personal trainers and obsessed with fitness, but then again… few in Miami of the 1990's weren't. For them, it's all about how you look and what you have, and unfortunately for them, they have busted their butt for years and look great… but don't have anything.
They meet the character played by Tony Shalhoub and he has banked his millions by making sound investments and having owned a series of sandwich shop franchises. When Shalhoub's character lands in Wahlberg's gym for personal training, a plan is hatched.
As seen in the Pain and Gain trailer, they kidnap Shalhoub and put him through the wringer to get what they want. But, getting money out of him proves to be a little more difficult than they imagined. When he goes missing, a private eye (Ed Harris) looks into the case and that is when the gym walls start to close in on our trio.
Our theatrical Pain and Gain review found it a refreshing film in the Bay filmography. He lights up Miami and almost makes it a character all its own. For those who missed the film in theaters, the DVD and Blu-Ray are a fantastic forum for checking out the highly muscled movie.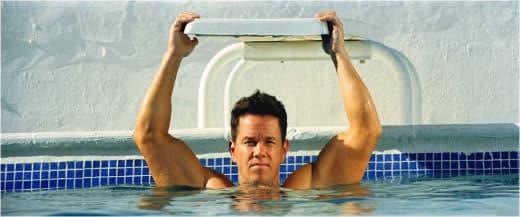 Wahlberg is outstanding, and Mackie shows why he was a no-brainer to take the part in Captain America: The Winter Soldier as Falcon. But, the real announcement of talent here is Johnson, who shows a side of himself never before seen onscreen. The depth he brings his character is impressive and we look forward to seeing more of that aspect of his persona… not that there's anything wrong with his action turns in films such as the upcoming Hercules 3D.
Unfortunately for those seeking more than simply the film, there are no extras to be found. So when it comes to a DVD and Blu-Ray review of the Bay true story… that is all that we can recommend.
But, we do have a bonus video for you. Recently to promote the release of the Pain and Gain home video release, check out the below video of some muscle-bound folks and star of Pain and Gain – Bar Paly -- working out atop a Sunset Strip billboard!