Pain and Gain is muscling its way onto DVD and Blu-Ray August 27 and Movie Fanatic is proud to present an exclusive giveaway. One lucky winner will receive a copy of the DVD/Blu-Ray Combo Pack signed by its star, Mark Wahlberg!
Also in that grand prize winner prize pack will be a bullet blender (for mixing all those pumping iron protein shakes) and a Pain and Gain duffel bag (for carrying all that gym gear)!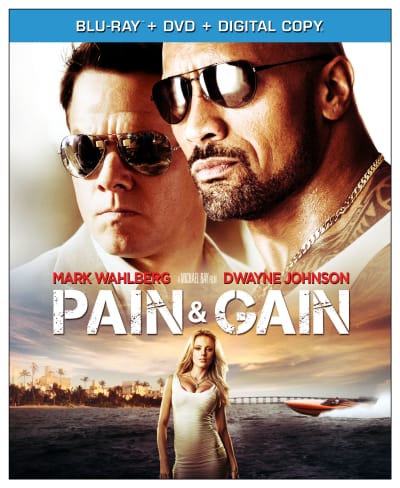 As teased in the Pain and Gain trailer, the incredible true story follows Wahlberg's Daniel Lugo, a personal trainer who wants to achieve the American dream through any means possible.
He enlists the help of fellow trainer Adrian Doorbal (Anthony Mackie) and fresh-out-of-prison, trying-to-live-right Paul Doyle (Dwayne Johnson) to kidnap and "extort" money from someone Lugo believes should not have all those millions that he earned… Tony Shalhoub's Victor Kershaw. Lugo thinks Kershaw is an arrogant jerk and needs to be brought down to earth. And if anyone deserves success, it's him and his two buddies.
We thought the Michael Bay-directed film was one of his best, as stated in our Pain and Gain review. And that grand prize package is not all... Movie Fanatic is also giving away two runner-up prizes, the Pain and Gain DVD/Blu-Ray combo pack.
Use the widget below to enter on Facebook or Twitter. There are three unique ways to enter, and by entering all three ways you can increase your chance at winning! And enter now, this prize pack's winners will be announced September 4.