Planes Exclusive: Teri Hatcher Wants Disney to Next Animate "Trains!"
by Joel D Amos at . Updated at . Comments
Teri Hatcher has more than made it in her career, from having one of the most memorable guest spots in Seinfeld history and wooing Superman in the smash hit Lois and Clark to being a Bond girl in Goldeneye and starring in the phenomenon that was Desperate Housewives.
But, there is something about starring in Disney's Planes that has her truly in awe of her good fortune. Besides being able to impress her daughter by being in a Disney movie, it was the message of the film that resonated with her. "It's about reaching beyond your limitations," Hatcher said in our exclusive video interview.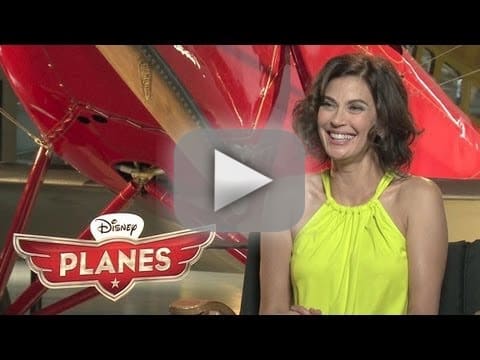 When we met Hatcher at the Santa Monica Museum of Flight, we also wondered since Planes is a spin-off of Cars, which transportation method she would like most for Disney to animate next.
"Boats could be cool because there are so many different kinds of boats," Hatcher admitted. "I do love trains, there's something so romantic about trains."
As can be seen in the Planes trailer, Hatcher portrays a forklift that works with our hero -- Dusty (played by Dane Cook) -- as his main mechanic. The actress also adored the fact that Disney made her character female. "And she's purple," she exclaimed proudly.