Prince Avalanche: Emile Hirsch & David Gordon Green Dish Magic of Paul Rudd
by Joel D Amos at . Updated at . Comments
Movie Fanatic met Emile Hirsch (Speed Racer, Into the Wild) and director David Gordon Green (Pineapple Express) for an exclusive video interview to talk about their new film Prince Avalanche starring Paul Rudd. Each could not say enough about the charismatic actor who can do both comedy and drama -- fitting given that Prince Avalanche is both!
"He's a guy who really enjoys the process," Green said of Rudd's willingness to go to the ends of the earth for a part. "He can work on a balance of different types of characters."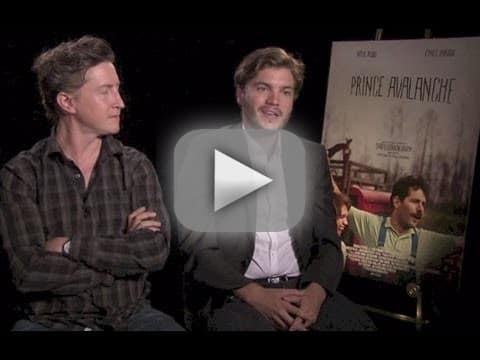 Hirsch most cherished the opportunity to work with Rudd because he is so present and giving as an acting partner. "One of the things I appreciated in Paul is he's so quick," Hirsch said. "He's so sharp. His timing, his instincts, he's a smart performer."
Teased in the Prince Avalanche trailer, the film follows two men who are painting freeway lanes in the middle of nowhere and how their combative first meeting grows into an understated friendship. The film is out now!