Ron Burgundy has seen it all. Will Ferrell's screen alter ego that has finally given us some new footage in this Anchorman 2 trailer, will be writing a book chronicling his many adventures in the always exciting world of news.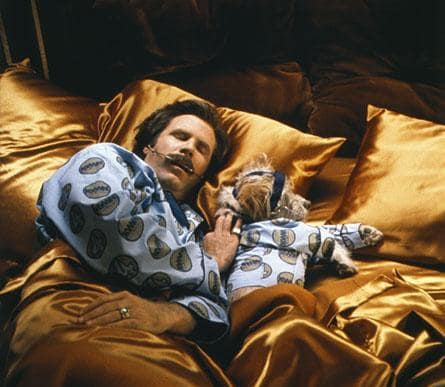 The book Let Me Off at the Top! My Classy Life and Other Musings is set to be released November 19, a month before Anchorman 2 hits theaters. And it was just yesterday that we got our hands on two new Anchorman 2 photos!
This is a "classy" move for sure by Paramount Pictures and Ferrell, not only to capitalize on the Burgundy buzz out there for the sequel to Anchorman, but also to give a little something to those patient fans out there who have waited for a follow-up film for what seems like forever.
Given how much has happened to our favorite San Diego Channel 4 anchor between the two films, Movie Fanatic is excited to see where life has taken him during those missing from the forefront of pop culture years.
The book, according to a press release, will "share personal anecdotes about the women in his life, about his dog, Baxter, and his legendary news team. Along the way, he'll also give sage advice on a variety of topics that matter most to him."
You had us at Baxter.