Scary Movie V DVD Review: Silly Scares Swing and Miss
by Joel D Amos at . Updated at . Comments
Scary Movie V has landed on DVD and Blu-Ray and we must say the best part of the film is its opening moments. Charlie Sheen and Lindsay Lohan play versions of themselves having a good old-fashioned hook-up session while the news plays on a nearby television noting their legal and personal troubles. It is fantastic to see these two lampoon their personas. And then the movie truly starts.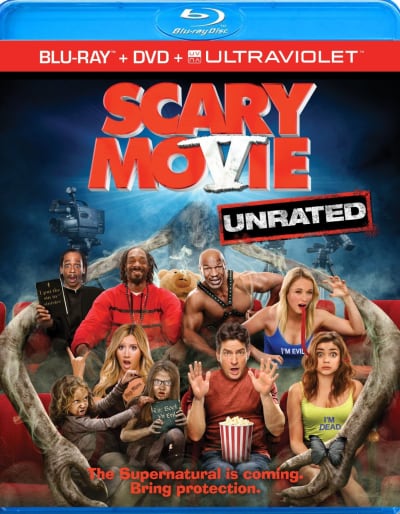 Scary Movie first premiered in 2000 and came form the wickedly funny minds of the Wayans brothers. The fifth installment of the series that takes horror movies and makes their premises hilarious (or at least tries to) is now being ushered by Airplane filmmaker David Zucker and although his sense of humor has not waned, the film as a whole completely misses the point.
As teased in the Scary Movie V trailer, the films in the target of this film include Black Swan, Mama and even Rise of the Planet of the Apes. Wait, is that a horror movie? This is called Scary Movie, right? That's where the film seems to have gone off the rails. It even pokes fun at 127 Hours and Honey Boo Boo.
Making headlines from this installment is a scene in which Ashley Tisdale makes love to a chair. Yes, you read that right. Tisdale plays a woman who is scorned by her ballet dancer mother (Heather Locklear) in a Black Swan rip-off that goes nowhere.
The film also stars Snoop Dogg as what I'm not sure, Molly Shannon (who steals the movie, as she always does), Terry Crews (who is wasted), Jerry O'Connell and Sarah Hyland (Modern Family).
A film such as Scary Movie V might be a welcome home video release given all the gag reel potential and the fun filmmakers could have with the extras. Unfortunately, the bonus features are quite pale. In fact, they are just a few deleted scenes and a couple of extended scenes for scenes from the film that didn't work in their shorter version.
In the end, as we reflected in our Scary Movie V review, the movie is a missed opportunity. From its plot, to its humor… and finally its home video release -- this is one franchise that maybe needs to be put to bed.