Ever the funnyman, Seth MacFarlane has taken to Twitter to announce he has a release date for his follow-up to the insanely funny Ted.
"RT @JohnnyMctardo: @SethMacFarlane when is Ted 2? // We're aiming for a 2015 Passover release date," MacFarlane said to the delight of the millions who adored Mark Wahlberg and that cute, but foul-mouthed, little teddy bear.
Who releases a movie for "Passover"... MacFarlane, that's who!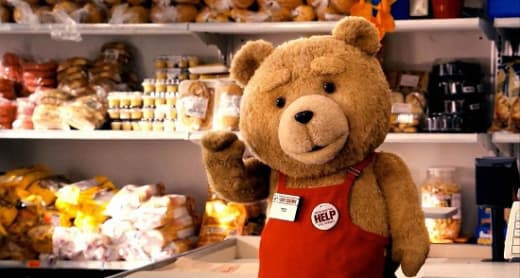 Movie Fanatic could not be more thrilled. Ted was one of our Top 10 Comedies of 2012 and we feel this is one of those rare comedies that actually warrants a sequel.
MacFarlane is a busy guy. He's got Family Guy and American Dad coming back in the fall, and he is currently filming the Western A Million Ways to Die in the West which features the former Oscar host with Charlize Theron, Amanda Seyfried, Liam Neeson and Giovanni Ribisi. We could say that everyone loves Ted and that's why we're getting a sequel, but in all honesty, everyone loves MacFarlane, judging by that cast and all the good fortune that has come the funnyman's way of late.