Fresh off of yesterday's release of The Book Thief trailer arrives a slew of stills from the 20th Century Fox film. The film is based on the Markus Zusak novel of the same name and stars Geoffrey Rush (Pirates of the Caribbean movies), Emily Watson and in what is sure to be a cinematic announcement of talent, Sophie Nelisse.
The film follows Nelisse as a young orphan who is taken in by Rush and Watson on the eve of World War II. Her adoptive father and her bond over their love of the written word. The two use books as a way to fight back against Nazi oppression.
Along the way the family encounters hardship and heartwarming moments and still manage to thrive, despite the onslaught of war.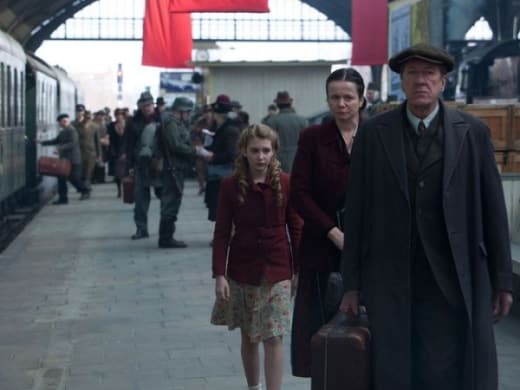 Judging by the trailer and these first images, it appears The Book Thief has all of the boxes ticked to be considered for Oscar gold. Watson is a previous nominee, Rush is a winner and the World War II setting through the eyes of an orphan has Academy love written all over it.
The Book Thief lands in theaters November 15.