Movie Fanatic could not be more thrilled that director Luc Besson is back behind the camera, as teased in The Family trailer. We've got a new still from the crime comedy that stars Robert De Niro and Michelle Pfeiffer as a couple who have to drag their kids all around Europe because dad is in the witness protection program.
See, De Niro's back in the mob and his character kind of snitched on his cohorts. So, Tommy Lee Jones' Justice Department official has placed them in Europe. Relativity Media has released a fresh still of De Niro and Pfeiffer, along with Diana Agron (Glee) and John D'Leo... who play their kids.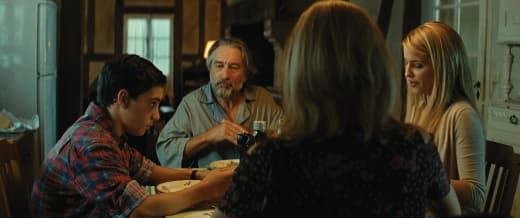 The comedy aspect of The Family arrives as the entire family keeps doing things to get them in trouble and Jones has to sweep in and move them again. Pfeiffer, Agron and D'Leo's characters are no angels either!
Something happened in the South of France as our movie begins and De Niro and his clan have to move to a sleepy hamlet in Normandy. There, things do not get much better for our itching to be back in Brooklyn gang.
Besson helmed one of our favorite films, The Fifth Element, and has turned more to producing of late (Taken, Transporter series, Columbiana). To see him wield his camera in a mob comedy was a treat -- stay tuned for our review when the film premieres September 13.