The Hobbit The Desolation of Smaug Photo: Legolas & Tauriel Talk
by Joel D Amos at . Updated at . Comments
You know that old saying that the eyes have it. Well, we think that given the new photo Warner Bros. released today from The Hobbit: The Desolation of Smaug, in our world today, the elves have it.
It is an epic photo that fans everywhere have been waiting for: Orlando Bloom's Legolas and Evangeline Lilly's Tauriel have a serious moment atop a mountain. Now, we have a feeling that these two elves will hold the key to the entire battle to save the dwarves' home.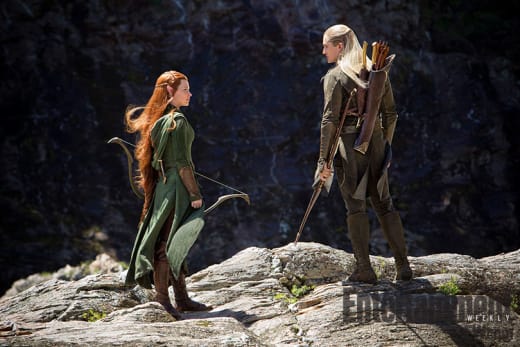 The last The Hobbit: The Desolation of Smaug trailer showed us the dragon that is in the way of the dwarves and their homeland. With the added help of Tauriel and Legolas, victory will most certainly be closer at hand. The Hobbit: Desolation of Smaug lands in theaters December 13.