A new The Hobbit: The Desolation of Smaug poster and photo has landed, courtesy of the all-things Lord of the Rings website, theonering.net. The photo below should be familiar to anyone who adores the books. The moment I saw it, mentally I went right there… speaking volumes about J.R.R. Tolkien's prose. It's the chapter entitled Barrels out of Bond!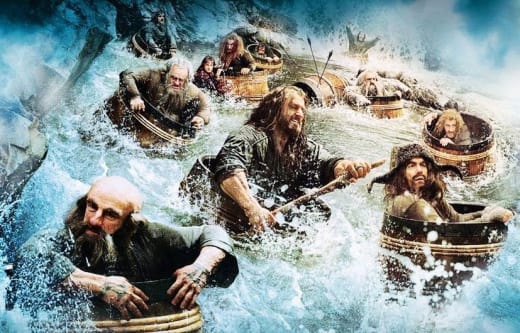 Also released was a brand new poster for The Hobbit: The Desolation of Smaug. One look and this photo should be easy to place as well. That image of Bilbo is seen via a reflection from the titular dragon's eye. Want to see a tad more of that evil dragon… check out the latest The Hobbit: The Desolation of Smaug trailer and wait until the ending!
With his last Peter Jackson video blog, the filmmaker also has given us some insight as to what to expect from the film landing December 13 and all we have to say from what we've seen so far is… wow!