The Mortal Instruments City of Bones: Godfrey Gao Talks Tackling Fan Favorite
by Joel D Amos at . Updated at . Comments
Godfrey Gao had a unique challenge amongst all the actors in the cast of The Mortal Instruments: City of Bones. Gao accepted the role of Magnus Bane, one of the most popular characters in the entire series.
There is something literally magical about Bane that has captured the hearts and minds of the 24 million people who purchased the first book in the series by Cassandra Clare.
"You get a mix and match of pressure and excitement," Gao said of playing Bane. "I felt pressure because it is a fan favorite and they want the best performance for Magnus. Hopefully I delivered."
Judging by our The Mortal Instruments: City of Bones review… he did.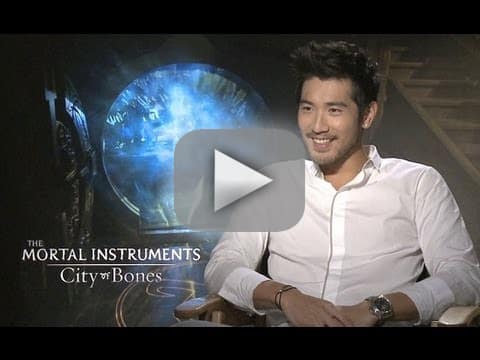 As previewed in The Mortal Instruments: City of Bones trailer, the story follows Clary (Lily Collins). She is an ordinary teenager who is celebrating her birthday. Thinking nothing extraordinary of the day, she heads out into the world to celebrate with friends at a local club.
When she sees something that no one else does… Clary will soon learn that she shares a millennia of history with a breed of souls who are responsible with keeping the evilest of demons at bay.
Gao, for one, is eager for the film to hit theaters. If for no reason other than he can gather his family and friends and throw a party that would make Bane proud. "Bane… throws all these parties and I've never experienced this type of character before."