The Mortal Instruments City of Bones: Lily Collins Dishes Favorite Scene
by Joel D Amos at . Updated at . Comments
The Mortal Instruments: City of Bones is making the leap from the page to the screen this week and we caught up with the film's titanic trio, Lily Collins, Jamie Campbell Bower and Kevin Zegers for an exclusive video interview.
When asked why this world -- teased in The Mortal Instruments: City of Bones trailer -- is so incredibly popular, Collins reported it has to do with the fact that the fantasy is grounded in realism. "The fantasy aspect of our film could be existing among us right now," Collins admitted. "It's not separate from reality. It is actually happening at the same time. That allure for an audience, and for me… [is that] it reinforces that there could be a world within our world that we do not see."
And like the Twilight Saga before, the author of the phenomenon was actively involved in the production, which is not always the case. Jamie Campbell Bower found the help of Cassandra Clare utterly priceless. Not to mention the fact that Clare played a huge part in the UK actor even getting the gig.
"She and Lily were instrumental in me being cast in the movie," Bower said. He then shared exclusive insight into how the author was so collaborative that she allowed the actors to rewrite a scene towards the end of the movie. To see what scene and how it changed… check out the video below!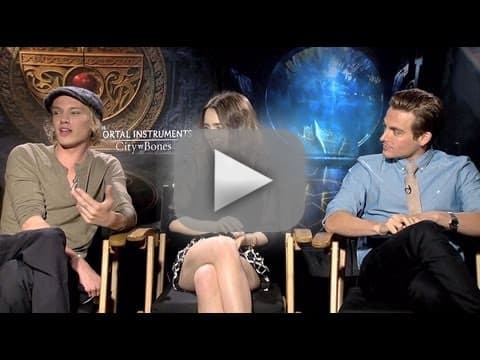 Collins, who is in practically every scene in The Mortal Instruments: City of Bones, then shared her favorite moment in the film, well two! One is likely the fans' best moment in the first book of the series as well. "The greenhouse -- the one where they finally get together," she admitted.
For the other… press play above!