The Place Beyond the Pines DVD Review: Father & Son Story Sizzles
by Joel D Amos at . Updated at . Comments
When it comes to the arrival of The Place Beyond the Pines on DVD and Blu-Ray, this is one of those home video releases that must be purchased for the film itself and not necessarily a boatload of extras.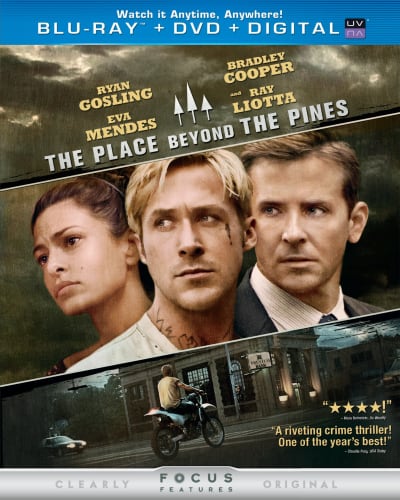 We knew that Ryan Gosling was an Oscar-worthy actor and he only enhances that opinion with his turn in The Place Beyond the Pines. And Bradley Cooper proves his Oscar nomination for Silver Linings Playlist was no fluke in the riveting tale of a small town populated by souls with big dreams.
Derek Cianfrance co-wrote the script and has directed a thriller meets emotional rollercoaster ride that is at its heart, the story of fathers and sons. Gosling, early on in the movie, learns that he has a son with Eva Mendes. Trying to provide for his newly discovered family forces him to make some tough choices, which may in fact lead to his downfall.
As shown in The Place Beyond the Pines trailer, Cooper is the father of a son, who is also a son himself to a father who never respected him. He portrays an upstate New York cop who finds his life intertwined with Gosling after the latter robs a string of banks.
The Place Beyond the Pines expands its paternal powerhouse even further by following Gosling and Cooper's sons as they become friends, completely unaware of their fathers' connection. Cianfrance cast the young men impeccably, especially with Dane DeHaan (The Amazing Spider-Man 2) portraying Gosling's boy.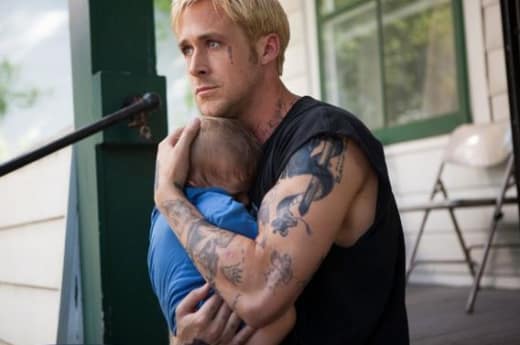 Our theatrical The Place Beyond the Pines review found it one astounding piece of work. In fact, it is one of our Top 10 of 2013 So Far.
But, like we said, the extras on the DVD and Blu-Ray are a bit sparse. There are a few deleted scenes and a few extended scenes that had to be cut for time. After watching the film and checking out these scenes, it's easy to see why some were cut back and some were cut completely. But, they are fascinating to watch, given the entire context of the film.
The feature commentary by writer-director Cianfrance is why this home video release would be worth a purchase. Having the man who envisioned this world provide his thoughts on the film as it builds to a boil… is frankly priceless.