The Spectacular Now: Miles Teller & Shailene Woodley Also Dish Divergent
by Joel D Amos at . Comments
Could The Spectacular Now stars Miles Teller and Shailene Woodley be turning into the new Spencer Tracey/Audrey Hepburn or Tom Hanks/Meg Ryan? After their coming-of-age story, audiences will once again see them paired in the highly anticipated Divergent. "How about Leonardo DiCaprio and Kate Winslet?" Woodley suggested of her tandem with Teller in our exclusive video interview.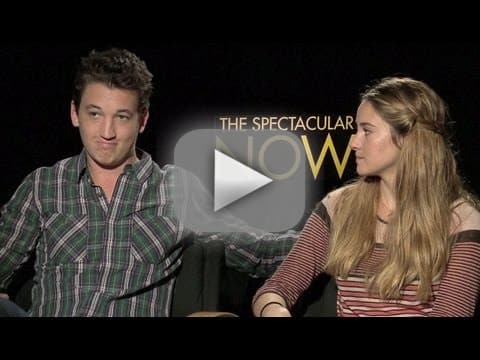 What is it about the other, we wondered, that has them starring in both The Spectacular Now and Divergent -- all in the same calendar year? "I like Miles because we work the same way," Woodley said. "Both of us memorize our lines and come to set and play. That's very rare."
Teller concurred and then some. "With Shailene it's whatever you want to try, let's explore it."
As seen in The Spectacular Now trailer, the film follows Woodley and Teller's characters as they navigate life as high school ends and the rest of their lives begin. Stay with Movie Fanatic for our review going live tomorrow that further explores this touching and astounding piece of work.