In honor of the latest Thor: The Dark World trailer arriving in 48 hours, Marvel Studios has released a new still of Tom Hiddleston as Loki. What do you think he's reading? Perhaps he's brushing up on his Hunter S. Thompson or maybe even The Hunger Games?
In all seriousness, the fact that Loki is back for his third go around as a baddie certainly should thrill all fans of The Avengers world. But if you look closely at the Thor: The Dark World Comic-Con poster, there is much more evil coming at our hero than his badass brother.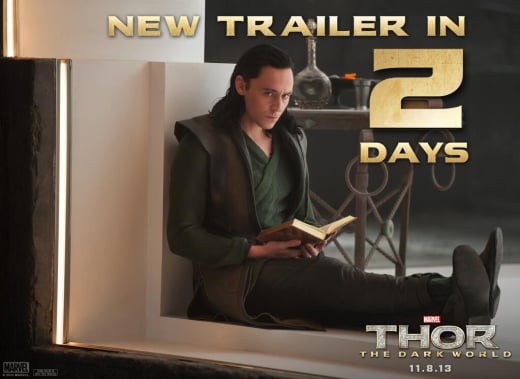 The first Thor: The Dark World trailer certainly set the tone that this time out, our Norse god has his hands full. There is someone much more evil than Loki wielding his power… and you'll have to wait until the trailer on Wednesday to find out.
Until then, enjoy the image of Loki brushing up on some literary magic.