So far, we have only seen the blond god Thor on the Thor: The Dark World poster. Entertainment Weekly has published a new poster for the sequel to Thor that showcases the full cast… and gives us our first look at the love interest from the first film, Natalie Portman.
We honestly were beginning to wonder how she would fit into this sequel set in Asgard, but there she is on the poster below giving her man a nice hug.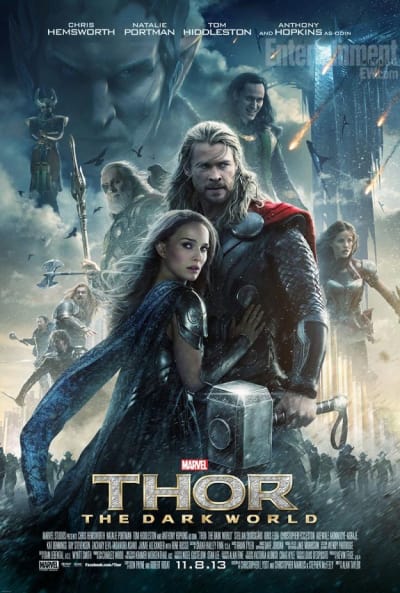 In fact, Portman is looking very much the "queen" to Thor's "king." Hmmm....
As teased in the first Thor: The Dark World trailer, the story for the sequel is as big as a second film should be, with Thor not only trying to save Earth once again, but all Nine Realms from an evil enemy… who appears to be lurking in the background of the above poster. Yes, that is Malekith!
The rest of the gang is all there too, from Tom Hiddleston's Loki to Stellan Skarsgard, Idris Elba, Jaimie Alexander, Anthony Hopkins and even Kat Dennings! Thor: The Dark World also welcomes newbies Zachary Levi and Rene Russo. 
And there's more Thor sequel joy coming soon... as we reported, the second Thor: The Dark World trailer arrives August 7.