A slew of stills has been released from Thor: The Dark World, and in them, we get a better feel for the world of Asgard and the alien villain Malekith. The crux of the sequel to Thor finds our hero re-teaming with his brother to face a common enemy. Empire UK published the stills and the first one we have to present finds Chris Hemsworth looking quite regal.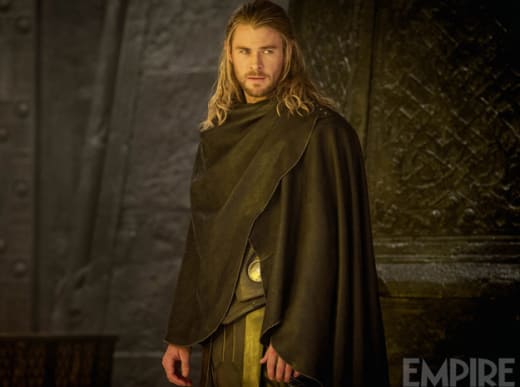 What has been teased in the Thor: The Dark World trailer is now more into focus, in terms of the landscape of Asgard -- as this film is much more Asgard-centered than Earth-centered.
Although as you can see from the first still below, Natalie Portman is still the big guy's love interest and Kat Dennings is also back in a fresh still below.
Also pictured (finally!) is Idris Elba, who is back from the first film and we're kind of partial to the below stand-alone still of our favorite villain, back from The Avengers, Tom Hiddleston's Loki!
Thor: The Dark World lands in 3D, 2D and IMAX 3D theaters, November 8.