Thor The Dark World: Tom Hiddleston Promises a "Roller Coaster"
by Joel D Amos at . Updated at . Comments
Would we expect anything less than a thrill ride that rivals those at our favorite theme parks from any of the films in the Marvel universe? With the release yesterday of the Thor: The Dark World trailer, we can see that the sequel to Thor will keep the momentum going.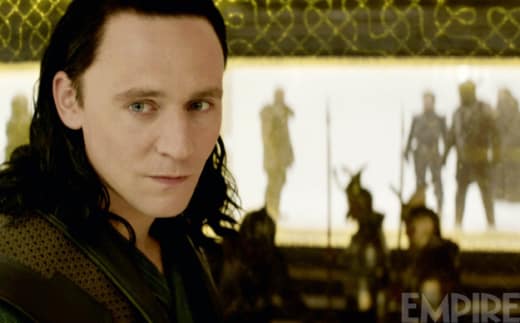 Tom Hiddleston, in fact, recently said in an interview that, "It's a roller coaster, no question. It's full of ups and downs and loop-de-loops and twists and turns. It will take you to places you haven't seen before."
The actor that embodied Loki better than anyone could have was talking to MTV News and from the sounds of it, the Shakespearean trained actor seemed to delight in the storyline that finds Thor having to mend fences with Loki in order to fight a common evil.
Heck, those Thor: The Dark World character posters that we just premiered are subtitled, "Brothers in Arms." How true that is, given what we gleaned from even that very first Thor: The Dark World movie trailer.
"Loki has a very complicated relationship with Thor. He is an agent of chaos without equal in the world he inhabits. He knows his true nature. He knows he doesn't belong in the family of Asgard, and he's locked away in the beginning of the film in the deepest, darkest recesses of the dungeon as public enemy number one," Hiddleston added.
Why, oh why, would Thor trust his brother ever again? "Lo and behold, Asgard needs his help. That's going to be a very complicated allegiance."
You said something there, Mr. Hiddleston. That is for sure.
The actor also felt that he personally didn't like the way that the Hulk tossed him around at the end of The Avengers like a rag doll and hopes that there is a rematch… even if Loki isn't slated to appear in the sequel since the villain role is now filled by James Spader as Ultron in Avengers: Age of Ultron
"I do feel like there's some unfinished business between Loki and the Hulk. I feel like he didn't get a fair fight," Hiddleston said.