The weekend movie preview bets that the movie houses of the land are going to be busy places this second weekend in August. From the latest Disney movie, Planes, and Matt Damon's sci-fi thriller Elysium, to Jennifer Aniston and Jason Sudeikis' R-rated comedy We're the Millers, and the tween set being thrilled about the return of Percy Jackson, there is something for every taste at the cinemas this weekend. 
Elysium: Damon joins the world of District 9 helmer Neill Blomkamp and portrays a man living in 2154 where life, honestly, is not very good. Damon is on Earth where the wealthy have long abandoned it by heading to an orbiting paradise called Elysium. When Damon is injured at work, he learns he only has five days to live. If he lived on Elysium, he would be cured in 15 seconds. What's a guy to do? That is where the thrills begin as Damon does whatever he has to do to make it up there to save his life. As we stated in our Elysium review, the film is powerful, resonant and as timely as can be. Jodie Foster is steely as the antagonist, and boy, is she evil! 
We're the Millers: Aniston and Sudeikis make quite a comedic dream team as a "couple" who pretend to be married so that Sudeikis can bring back pounds of weed in an RV from Mexico. As our We're the Millers review stated, this is a little more than a one-note comedy, and the laughs haven't all been seen in teasers. Yet, there is something kind of missing from the film but when it comes to summer comedies... you could do worse -- much worse than We're the Millers.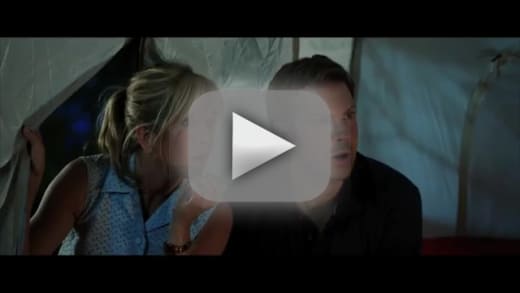 Percy Jackson Sea of Monsters: Percy Jackson has a complex. He's worried he's a one-quest wonder! After saving the world in the first movie, Percy is having trouble maxing his mojo. But, when the barrier that protects the demigod's home is broken and their way of life is threatened, Jackson must venture to the Sea of Monsters to fight for what's right. Our Percy Jackson: Sea of Monsters review finds that the film is good fun, filled with great action... even if the special effects leave a lot to be desired. Elementary school kids will adore it!
Planes: Planes is a spin-off of Cars and it shares the same themes and look as that Pixar/Disney smash. But, this time out Planes is solely from Disney... Pixar is not involved. As such, it suffers in the sense that the appeal is squarely for young kids. Adults may have a hard time finding anything interesting in the film... but kids will soar from the inspiration. For more, check out our Planes review.