World War Z was a surprise blockbuster this summer -- although, on paper it should never have been a shock that it would make $195,889,000 so far in the U.S. alone. When reshoots and script revisions dominated headlines as the Brad Pitt-starring film neared release date, pundits felt the film was in trouble. 
Seriously? Pitt is a huge star and the book upon which it was based is an international bestseller. In hindsight, you could see the blockbuster status from a mile away! In our World War Z review, we found the film an utter thrill ride.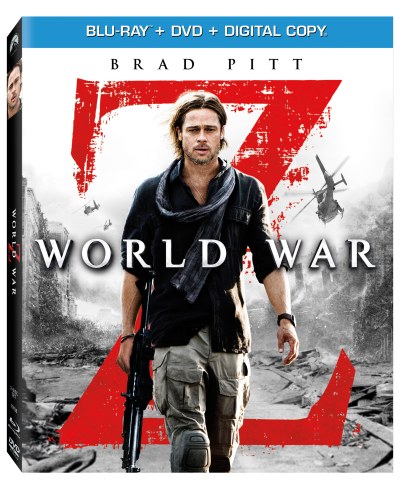 Now Paramount has announced plans for the World War Z Blu-Ray and DVD with the film landing on home video September 17. The film will feature an unrated cut that contains more thrills and action sequences not featured in the theatrical release.
World War Z will be released in various formats including 3D Blu-Ray, Blu-Ray, Blu-Ray/DVD Combo Pack and On Demand.
The extras we are most excited for include:
Origins: The filmmakers discuss collaborating with renowned actor/producer Brad Pitt to create a zombie film the likes of which have never been seen.
Looking to Science: Explore the scientific realities of zombie behavior in nature and learn more about zombies in literature and film.
World War Z: Production Featurettes:
Outbreak: Go on set with Brad Pitt and director Marc Forster for a behind-the-scenes look at the film's breathtaking first attack in Philadelphia.
The Journey Begins: Delve deeper into Gerry's fight for survival during the dramatic escape in South Korea.
Behind The Wall: Explore the epic scene in Jerusalem and discover the incredible logistics of creating the elaborate stunts and crowd sequences.
Camouflage: Experience the final confrontation between Gerry and the zombies and discover the phenomenal scope of the film's production.