X-Men Days of Future Past: Inside the Mechanics of a Sentinel
by Joel D Amos at . Updated at . Comments
The X-Men Twitter feed has given us a look inside the "mind" of the evil machines at the heart of X-Men: Days of Future Past. Movie Fanatic has gotten our hands on a blueprint for a Sentinel from the film's Trask Industries.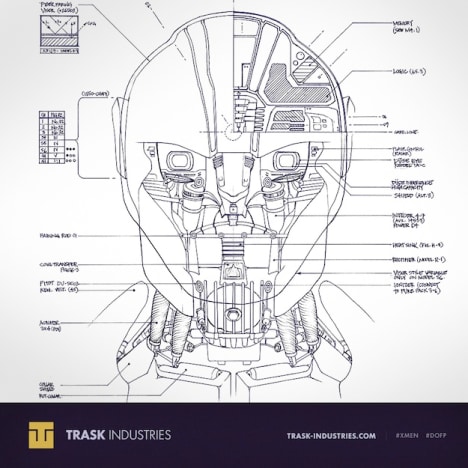 Trask Industries is the make-believe company at the heart of the sequel to X-Men: First Class. The establishment has been making the robots that are charged with one thing: Hunting down mutants. Of course our favorite X-Men heroes find that a little threatening. The old phrase "know thine enemy" certainly appears to be coming into play here. The gang, including old and new X-Men characters that will cross through time to fight this evil together, need anything they can get to aid in their fight.
Having this blueprint is clearly a start!
When Movie Fanatic saw the entire X-Men: Days of Future Past cast at Comic-Con it only increased our excitement for this Bryan Singer film. And his tweets from the set have been coming at fans with rapid fire. His Jennifer Lawrence in full makeup photo even became an internet sensation.
Want to know more about Trask Industries… we just happen to have their mission statement:
In 1973, Trask Industries introduced the first Sentinel production model, the Mark I. Bolivar Trask's groundbreaking research in AI, robotics and autonomous ballistic systems laid the foundation for the world's most capable anti-mutant defense system. Since the program's inception, we've continued to advance our founder's cause through eight additional generational upgrades and enhancements.
As we celebrate five decades of achievement, we also bid farewell to regular production of the Mark I and shift our efforts to full-time manufacturing of the Mark X -- our first complete overhaul of the Sentinel line. These highly anticipated units will combine next-generation nanotechnology and bio-weapon breakthroughs, promising an even brighter future for the human race.
X-Men: Days of Future Past hits theaters May 23, 2014, and time cannot move fast enough.