You're Next Exclusive: AJ Bowen and Sharni Vinson Share Scariest Movies
by Joel D Amos at . Updated at . Comments
You're Next is not your average home invasion horror movie and stars AJ Bowen and Sharni Vinson tell us in our exclusive video interview why. You've seen the You're Next poster and the animal mask that is featured… and that is just the beginning of the creepiness.
Bowen and Vinson were all too excited to appear in the film, teased in this You're Next trailer, because it was so much more out of the box than the run-of-the-mill horror flick. "Thanks to Adam's style of shooting -- he was so in the moment -- it is truly scary," Vinson said of why the film feels so terrifying.  
Bowen had previously worked with director Adam Wingard and screenwriter Simon Barrett on V/H/S and for someone who has made a living in the horror genre, the actor found their storytelling milieu refreshing.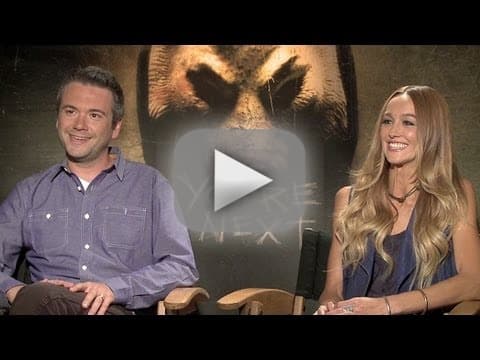 "They take stuff that you don't see much in a sub-genre -- the one before was based on a serial killer motif ( V/H/S and V/H/S 2) -- and tried to inject their own personality into that," Bowen said. "When you make horror movies for a living, that's what I do, it can get exhausting -- the physical toll of it. The draw of this one… was trying to make something that was fun. Shooting a movie all at night had a carnival atmosphere to it."
As Bowen is a horror movie vet, with credits such as The House of the Devil, we knew he was the guy to ask: What is the greatest horror flick of all-time?
"Black Christmas, 1974, Bob Clark," he admitted. And he had two others as well. Check out the video above for his ingenious answers.