2 Guns DVD Announced: What Are Bonus Features & Release Date?
by Joel D Amos at . Updated at . Comments
Mark Wahlberg and Denzel Washington join forces in 2 Guns and the film proved to be a box office hit, landing at number one upon its release in theaters. As the 2 Guns trailer previews, their two characters don't exactly get along… at first. Both are undercover agents working a border town, except each do not know the other is undercover.
The film that features explosive action is now set to arrive on DVD, Blu-Ray and Digital HD on November 5.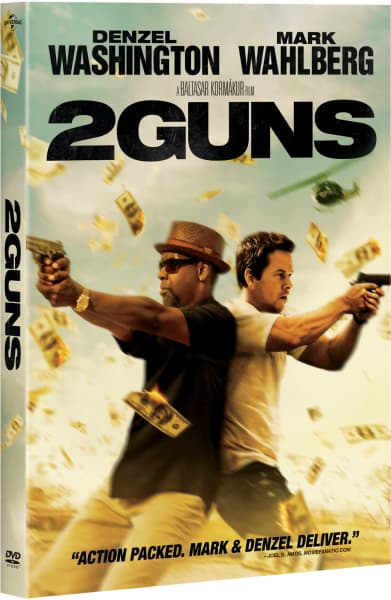 Movie Fanatic thoroughly enjoyed the film, check out our 2 Guns review for more… and we're even quoted on the home video box (pictured above)!
The two action stars, who also do quite well in comedy and drama as well (!), are forced to work together to bring down a drug cartel -- if for no other reason but to save face as their first effort to bring them to justice was an epic fail.
The film also stars Paula Patton (Mission Impossible Ghost Protocol), Fred Ward, James Marsden and Bill Paxton and is from director Baltasar Kormakur.
The Blu-Ray/DVD Combo Pack Bonus Features are as follows:
The Good, The Bad and the Sexy: Stars Denzel Washington, Mark Wahlberg, Paula Patton, Bill Paxton, Edward James Olmos and James Marsden take us inside the crafting of their characters.
Finding the Vibe: This featurette unveils how the graphic novel came to life onscreen in a blockbuster movie.
Living Dangerously: The stuntmen of 2 Guns show us how they do the impossible.
Features on both the Blu-Ray and DVD releases:
Deleted and extended scenes
Undercover and into Action: Explores how the graphic novel's writing style innately led to a film version.
Feature Commentary: Director Kormakur and Producer Adam Siegel take viewers through the entire film.