Sony Pictures and Metro-Goldwyn-Mayer Pictures have announced that 22 Jump Street has begun shooting, reuniting Jonah Hill and Channing Tatum. The original film gave us those unforgettable 21 Jump Street quotes and an action comedy that showed what can happen when a TV show makes a solid jump to the big screen (Check out our Top 10 TV Shows that Should be Movies!).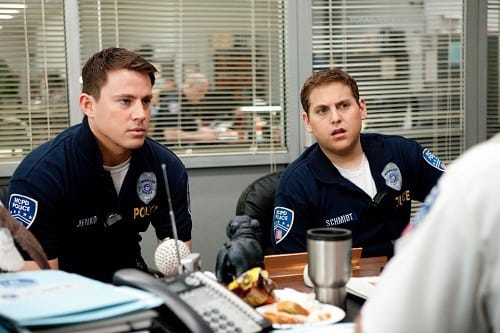 Hill and Tatum are back as undercover cops Schmidt and Jenko, and the sequel also brings back the original's directors, Phil Lord and Christopher Miller. Ice Cube will also return in his scene-stealing role as their superior.
22 Jump Street will be shooting in New Orleans and Puerto Rico and finds our heroes heading undercover at a nearby college. Producer Neal H. Moritz could not be more excited.
"We were all so thrilled by the irreverent humor and the chemistry between Channing and Jonah as we sent them back to high school in the first film. So, of course, we just had to send them to college. It's also great to have Chris and Phil back at the helm," Moritz said in a statement announcing filming had commenced.
"From the get go they have had the perfect pulse on the material, and have created an unforgettable cop buddy team in Schmidt and Jenko."
Lord and Miller add that they can commiserate with the power that is working as a team. Tatum and Hill have it, and so do Miller and Lord. "Buddies who work together is a topic that is close to home for us. We're looking forward to working with Channing and Jonah, Neal and our friends at Sony again to take these guys' relationship to the next level," Lord said.
Tatum and Hill added, "We are grateful to our friends at Sony and MGM for letting us do another one. We're proud to be working alongside Phil, Chris, Neal, Ice Cube, Korean Jesus and the rest of our amazing crew and cast. As we all know, sequels are ALWAYS better than the original. Every single time. This will be no exception. How are we still saying the exact same words at the same time? This is crazy! Jump Street!"
Look for 22 Jump Street on June 6, 2014.