We caught up with Afternoon Delight star Jane Lynch and the film's writer-director Jill Soloway and we asked the Glee standout about her penchant for playing therapists on film and in TV. Her response caused us to not stop laughing at her opinion on the profession, that frankly does quite a business here in Hollywood!
Lynch has played a therapist in numerous movies, and in TV shows such as Two and a Half Men and Reno 911. When we asked what it was about the occupation that made it easy for her to sink her teeth into -- as she is seen in the Afternoon Delight trailer -- she dished about her attraction and simultaneous repulsion with those who inhabit the job.
"I love therapy. I'm fascinated with what makes these people think they can actually help," Lynch said and laughed. "As I'm sitting with my therapist I think "What makes her think that she can help me! Where does she get the gumption!' I love that entitlement. I love that, 'I am here to save you. I will at least lead you to believe that I have the keys to the kingdom.'"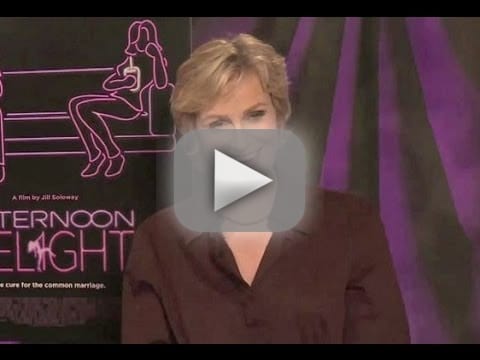 In Afternoon Delight, Josh Radnor and Kathryn Hahn play a married couple who seem to have hit a frankly, boring patch. Lynch plays the therapist to Hahn and as always… nails it!
One, now, can see why!