Arthur Newman DVD Review: Colin Firth Becomes Someone Else
by Joel D Amos at . Updated at . Comments
Arthur Newman has one huge aspect going for it: The casting of Colin Firth and Emily Blunt as leads. Firth plays Wallace Avery, a man so miserable in his own skin, he takes on the titular persona. Meanwhile, Blunt is not too pleased with her life either. The two get together and take a road trip in an effort to escape their miserable worlds.
Arthur Newman lands on DVD and Blu-Ray and its message is clear: Life may always appear better for others, but once you walk a mile in someone else's shoes, it may not necessarily be so rosy.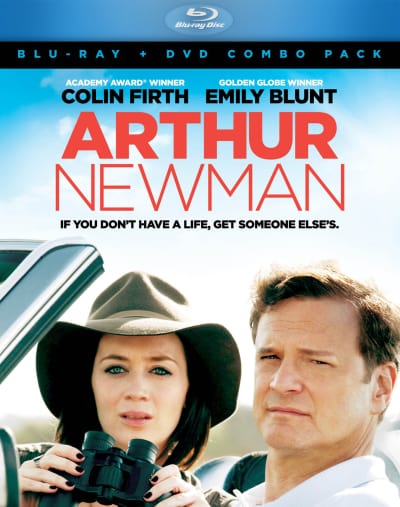 Firth, Oscar winner for The King's Speech, is uncanny in his effort to tackle an American accent. And Blunt does a fine job as well. The road trip story breaks the mold of the subgenre with its wide swath of emotions as the audience cannot help but feel for these lost souls.
As we stated in our theatrical Arthur Newman review, this is one rich story that is a must-see -- not only for Firth fans, but for all movie aficionados.
Previewed in the Arthur Newman trailer, Firth's character has an estranged wife, a child who has no interest in visiting with him, and worse… a "what if" that was the promise of a budding professional golfing career.
The "will they" or "won't they" romance of the leads is hardly important as the film works best in its ability to make the audience look in the mirror at their own lives. What are our perceived failures, and are they in hindsight… triumphs? We are who we are because of the path taken, not because of the path NOT taken.
There is not much in terms of bonus features on both the Blu-Ray and DVD. In fact, there is only a "making-of" doc, which is quite good and gives the viewer enough behind-the-scenes feel to make the Arthur Newman purchase feel worthy.