There is something truly compelling about Jackass' Johnny Knoxville donning old man make-up and costume and parading around the country wreaking humorous havoc, as seen in the Bad Grandpa trailer. Paramount Pictures has released a new poster for the comedy that arrives October 25 and it features Knoxville's Irving Zisman hitching a shopping cart ride from his onscreen grandson Billy.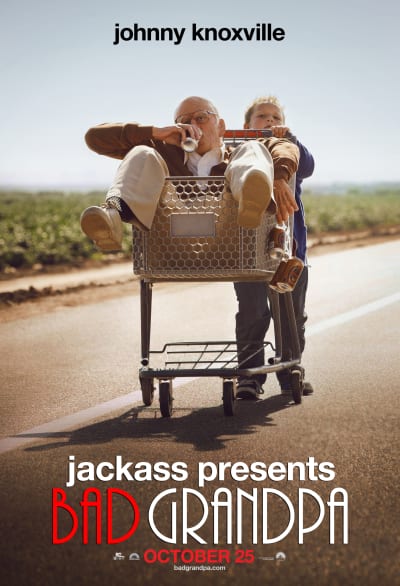 Jackson Nicholl is Billy, the eight-year-old who accompanies Knoxville on his comedic adventures. The film is very much in the realm that we saw last in Jackass 3D in that it is a hidden camera film where those unsuspecting souls that fall for the pranks set forth by Bad Grandpa result in hilarity for the audience!
Among his visits in the film will be a funeral home, a biker bar, child beauty pageants and a strip club. Yeah, told you it was compelling!