Baggage Claim Review: Paula Patton Flies the Friendly Skies
by Joel D Amos at . Updated at . Comments
Paula Patton is certainly charming enough to carry a romantic comedy. Evidence of that is front and center in the Baggage Claim trailer which teases the story of Patton's flight attendant who has been lucky with her career and unlucky in love. With the news that her much younger sister is getting married, she sets a goal for herself to find a man worthy of marrying (or at least bringing to the wedding) in the 30 days that remain until her sister's big day.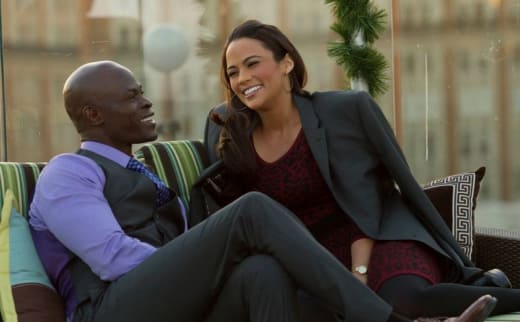 Patton and her fellow flight attendants (including a scene-stealing Adam Brody) hatch a scheme that the best way to achieve her goal is to revisit her past. The idea is that one of her exes has to have been Mr. Right -- it's just that the timing was wrong. So, they use their sources across their airline to determine which man is flying where and they orchestrate it so Patton is working those flights.
The cast of former flames is top notch including Taye Diggs, Trey Songz, Boris Kodjoe (Resident Evil: Retribution) and Djimon Hounsou (soon to be seen in Guardians of the Galaxy). But, the man who seems all-too-obviously perfect for her lives across the hall… her longtime friend William Wright (Derek Luke). Heck… his name is even Wright!
Baggage Claim has two problems that are hard to get past, although some may thoroughly enjoy it for those issues. The film seems to have forgotten what decade it is in. This rom-com feels like it is from the 1990s, complete with its score. The soundtrack is pure 2000s, but the orchestral music is right out of My Best Friend's Wedding.
Secondly, Patton's character strikes us as someone who is driven and not one who would be defined by a man.
Yet, as the story of Baggage Claim plays out… it seems that all she wants is a man. Like, she is some sort of failure because she has nobody and her sister does. That also seems to be a trait of a dated romantic comedy. The best rom-coms of modern days feature strong women who happen to find love as part of everything else that is going on in their lives. We just don't buy that Patton's character, a jet-setter, would so define life success or failure by the fact that she does or does not have a ring on her finger.
There is a bright light in the film, beyond Patton's charm, and that's Luke. He shines from the moment we meet him and carries the film throughout. We expect to see a lot from this young star in the future and hope both he and Patton get roles in better projects than this seriously out-of-date date night movie.