Despite everyone having an opinion about Ben Affleck as Batman, the man himself has been pretty quiet. Also-rans such as Josh Brolin have talked Affleck as Batman. We even gave you Ben Affleck is Batman: Five Reasons it May Work. Now, the man who will be the Caped Crusader has added his two cents, and boy, is he excited. Affleck visited Late Night with Jimmy Fallon and his praise started with the film's director.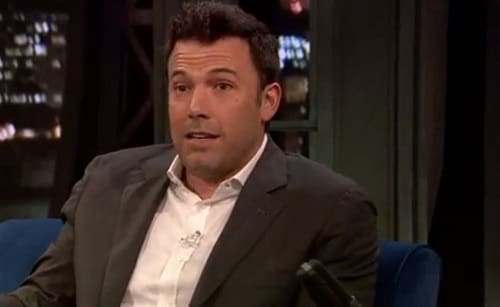 "Zack Snyder is directing, he has this incredible take on it. It's so awesome, man. I'm so excited," Affleck said, like a kid in a candy store of appearing in the film that is officially called Batman vs. Superman.
"They called me up and said, 'Do you want to do this?' and I'm like, 'What? I'm not 25. Man, are you sure about this?' They said, 'Come down and we'll show you what we're doing.' It was incredible."
Affleck stressed that Snyder made him keenly aware that this was going to be nowhere near the universe that was most recently played out in The Dark Knight trilogy.
"Zack [said] obviously we can't do what Chris [Nolan] and Christian [Bale] did, those movies are amazing," he said. "So he wants to do something different, but still in keeping with that. So, I thought this is a brilliant way to do this and I really know how to hook into this. And I said, 'Okay, I want to do it.'"
And it seems that Affleck was ready for some of that backlash, thanks to some intuitive Warner Bros. staff.
"The people from the studio were like, 'We're thrilled. We're so excited. And listen, we want to talk to you, because people go through this process and it is a little bit... it can be trying. We want to show you some of the reactions that past cast members have got on the internet,'" Affleck recalled.
"So they sent me people who were in these movies that did a great job and people were like, 'Kill him!' I was like, "You can't say that before the movie comes out!' It doesn't matter what the people think then. It matters what they think when they see the movie. But I was like, 'I'm a big boy. I can handle an [Oscar] snub, I can handle anything.' They said, 'Just don't use the internet for a couple of days'. I said, 'I handle (expletive). I'm very tough.'"
Then, it was released to the world that Affleck was Batman. "I saw the announcement. I look at the first comment and it's like, 'Ben Affleck is going to be Batman' and the first person goes, 'Noooooo!'"
Guess he's recovered. And as we stated before, Affleck sounds ready to rock. Maybe soon the rest of the world will be too!