Although it was dogged by bad publicity almost from the opening day of shooting, World War Z became a summer blockbuster for Brad Pitt. The superstar also served as producer on the film and he should be given serious credit for overseeing reshoots and story adjustments that made the movie that we loved in our World War Z review.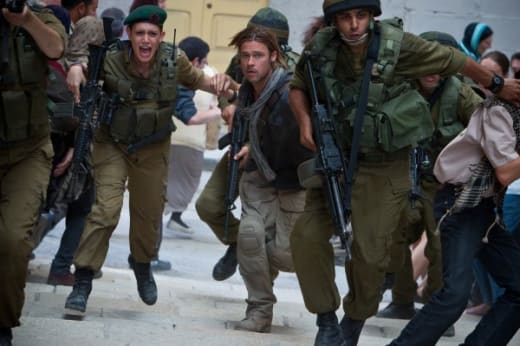 The universe of World War Z was originally envisioned as a zombie trilogy by Pitt and filmmakers behind the film. But, the big question -- given its filming "troubles" -- was whether audiences would even go for the first one. Since the film has become the biggest blockbuster of Pitt's career (it has made a half a billion bucks globally), naturally we are wondering about the sequel and subsequent chapters.
"We're certainly talking about it," Pitt said in an interview with Variety.
"We have so many ideas on the table from just the time we spent developing this thing and figuring out how zombie worlds work. We have so many ideas and so much information -- we think we have a lot of stuff to mine from. We're going to do our best and see what we get out of it."
One person who would love to see another film is an actor who told us in our Matthew Fox exclusive interview that his role is greatly expanded should there be a second and third movie.
For those who missed the zombie film in theaters, the World War Z DVD arrives September 17.