Cinderella Begins Production: First Still of Lily James!
by Joel D Amos at . Updated at . Comments
Disney's live action Cinderella has started principal photography, and to celebrate the first frames of the film, the studio has released its first still of star Lily James. The Downton Abbey star is seen as Cinderella in this first pic, riding a horse and looking quite regal!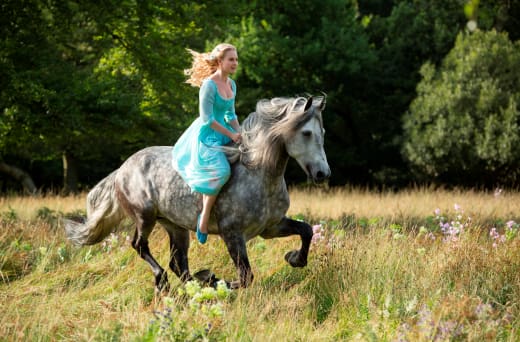 Cinderella stars James, Richard Madden, Cate Blanchett and Helena Bonham Carter (most recently in The Lone Ranger) and is being directed by Kenneth Branagh.
Madden will be portraying the Prince who must find the woman who fits into that iconic glass slipper, Blanchett will play evil stepmother Lady Tremaine and Carter will slip into the role of Fairy Godmother. Is that perfect casting or what?
Branagh, who most recently directed Thor) is beyond thrilled to be helming the live action version of the classic story that dates back to 1697 when it was created by Charles Perrault. And who doesn't recall the 1950 classic animated story from Walt Disney?
"It is impossible to think of Cinderella without thinking of Disney and the timeless images we've all grown up watching. And those classic moments are irresistible to a filmmaker," Branagh said in a statement.
"With Lily James we have found our perfect Cinderella. She combines knockout beauty with intelligence, wit, fun and physical grace. Her Prince is being played by Richard Madden, a young actor with incredible power and charisma. He is funny, smart and sexy and a great match for Cinderella."
Look for Cinderella on March 13, 2015.