Don Jon Review: Joseph Gordon Levitt Previews Greatness
by Joel D Amos at . Updated at . Comments
Joseph Gordon Levitt should be beyond thrilled with Don Jon, his directorial debut. It is the work of a filmmaker who is seasoned in the art of not only storytelling, but culling great performances from actors who all keenly know they are a spoke in the wheel that is an ensemble drama-comedy with one hell of a lot of heart.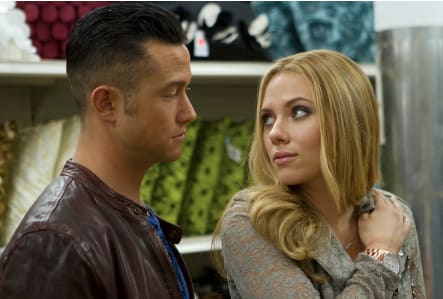 Gordon Levitt also stars in the film, as the titular character. His Jon got the name of the title because he is so adapt at picking up women. He's like a New Jersey Don Juan. That is, until he meets Scarlett Johansson's Barbara. His friends are shocked. His family is thrilled… and shocked. Jon has settled down. But something is amiss underneath the surface. See, as stated in the first Don Jon trailer, he likes his guy friends. He likes his family. He likes his church. He likes his pad. He likes his girls. And he likes his porn – internet porn, that is.
Until meeting Barbara, it wasn't a problem. He could pick up a woman at his favorite bar, excuse himself from the situation and sit down with his laptop. But, with Johansson's character, it's not that simple. Well, it is. And he gets caught by her and that sends the story into completely unexpected places. See, he's in love, and through Gordon Levitt's performance of a lifetime, we feel his pain… and his addiction.
Gordon Levitt also wrote the film, and it is clear he is wearing his heart on his sleeve for the audience to see. We're not saying the film is autobiographical at all... in fact, we don't think it is. But there is something wholeheartedly soul-baring about the entire artistic process put forth by the filmmaker and star that is riveting on so many levels.
Johansson also gives the performance of her career as the woman who not only ensnarls Jon in her web, but tries valiantly to change him, even forbidding him to clean his own apartment. After all, they have cleaning services for that.
Julianne Moore (recently cast in The Hunger Games: Mockingjay) is Esther. She is someone who has her own personal baggage that he meets at a night school class that Barbara is making him take to "better himself." Moore has a long list of incredible credits that have resulted in four Oscar nominations. She delves to an even deeper place in Don Jon that finds her playing confident, emotional wreck and heart and soul of the entire film.
Then, there is the casting of Jon's family. Tony Danza explodes off the screen as his father. Why this guy is not working more, I'll never know. Glenne Headly is simultaneously a mother to Jon who only wants him to get married and also a woman who has put up with her husband's wandering eye for decades in the hope that her son will grow up differently. And then there is Brie Larson, who does not say a word until the end of the movie. But, she says it all with her eyes, and what she does emit when finally speaking… is priceless.
But, then again… our Don Jon review finds the entire movie priceless.