Dumb and Dumber To Set Photo: Jim Carrey and Jeff Daniels on Being Back
by Joel D Amos at . Updated at . Comments
Recently Jim Carrey posted a picture of that famous Lloyd Christmas tooth getting ready to film Dumb and Dumber To. Today, Carrey took to his WhoSay account and posted a pic of himself as Christmas and Jeff Daniels as Harry Dunne... as their day of shooting is set to begin.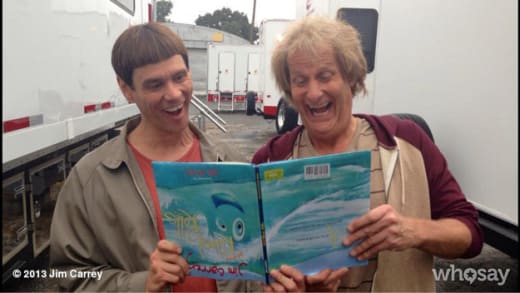 When asked about returning to the character, Daniels -- fresh off his Emmy win for Best Actor -- proudly stated to E! that pushing the envelope of comedy may be too tame of a description for this follow-up to Dumb and Dumber.
"The scariest thing? There are some things (that) we're going to do in Dumb and Dumber To that make the toilet scene (in the original) seem lame," Daniels said. "Pales in comparison and I can't divulge what, but just that they've topped it. The best thing about it? I get to work with a comedic genius."
Carrey is equally as excited to work with Daniels. And proof of that comedic genius is present in what he wrote about the above photo… and simultaneously speaks volumes about how talented Carrey is overall. That book they're "reading" is How Roland Rolls… Carrey's new children's book.
"How Roland Rolls comes out TODAY but it may be a little too sophisticated for Lloyd and Harry!" he wrote. "Yep... THEY'RE BAAAAA…"