Vin Diesel is a friend of social media. All through the filming of Riddick, he kept his fans posted of the movie-making process. Currently filming the next in the series of The Fast and the Furious, things are no different -- judging by his recent Fast and Furious 7 picture post.
Although he is clearly happy to be back at work on the blockbuster franchise, today we've got a bit more of a "somber" photo from Diesel.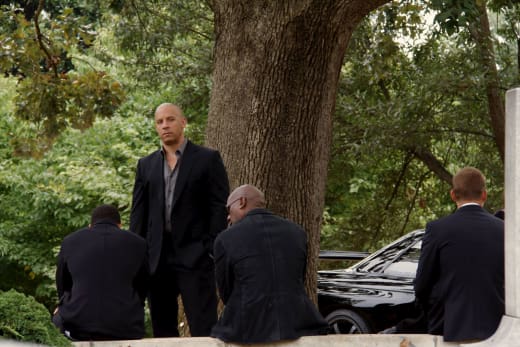 He wrote on his Facebook page that the experience "has been both intense and surreal..."
When it comes to the above photo, he refers to it as "a more somber moment in Our Saga..."
I'm guessing that the funeral the gang is attending in the posted photo is one that happened courtesy of Jason Statham's arrival in the final moments of Fast and Furious 6 on the streets of Tokyo!
And speaking of Tokyo... who isn't excited about the return of Lucas Black?!